Robert O'Halloran
I received this email in 2004 from Robert O'Halloran of Mississauga, Ontario, Canada
Hello Lauralee K. Harris, the reason I'm sending you this email is so that I may have permission to copy your piece called "Waiting to be Born" onto a word processor, because I am auditioning for Cawthra Park Secondary School, which a hichschool of this arts and I need to write a paragraph about a piece of art that is important to me. I went to the art gallery at City Hall this morning and after one glance of your piece I knew that I wanted to write about it. It's so completely amazing! You got my vote. well anyway if you could contact me with your response that'd be so great!
Cawthra Portfolio : Paragraph - On a piece of art that is important to me
The piece that I chose to write about for my paragraph (portfolio) was one by an artist named Lauralee K. Harris, her work is completely amazing! I think that this piece in particular captivates so much emotion, especially in the sky region of her painting. There is anger, sadness and joy, it's truly amazing. This spiritual piece received my attention with a single glance, her brilliant use of colour and what she had painted on, being wood was truly amazing. The grain of the wood added so much emphasis to this piece. This painting seems to be in a sort of native style, which would explain so well the spirituality of it. The idea of 'waiting to be born' or even reincarnated was so deep.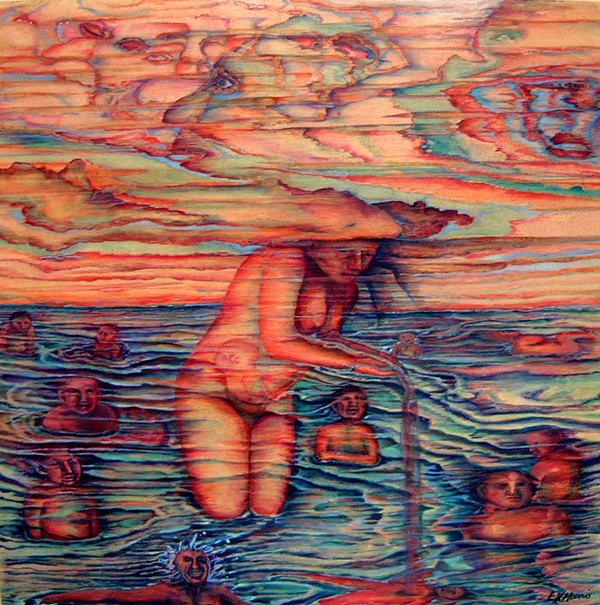 I know from my knowledge of natives that they believed heavily in spirits and to me the figures in the sky seem to be just that. Maybe they were those had already passed on. I thought that it was so clever to have the woman in the centre be pregnant, she seems to be the giver of life. The piece captivated and intrigued me like no other at the Mississauga City Hall's Art Gallery. The unity of colour is amazing. The picture seems to be very balanced as well, I think that there is an asymmetrical balance taking into to consideration the movement in the sky and in the water. There is also a lot of emphasis on the woman, not only because she is so large but also because of her colour in contrast to water, she seems to be primarily orange and the water, blue (complimentary). This piece runs so smoothly so to speak as well. In conclusion, I think that this piece is brilliant, as it's creator.